Logline :
Film about a storm rider washed ashore.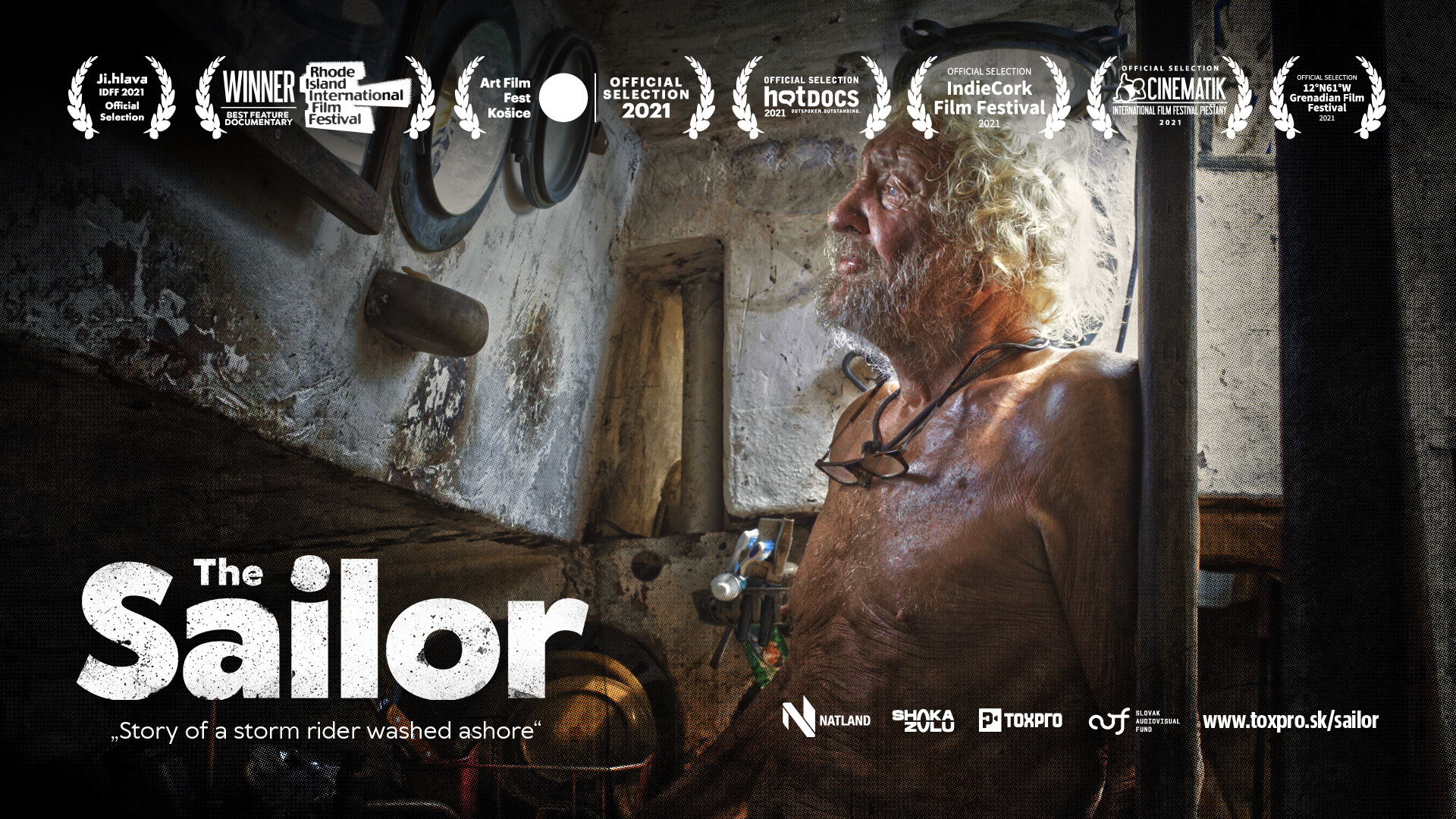 WATCH NOW! THE FILM IS AVAILABLE FOR ONLINE STREAMING!
Synopsis :
What is the price of freedom? Paul Johnson sailed the world all his life. He loved, drank and lived foolish, never truly living on land. Now he is turning eighty. Both him and his boat are unfit to sail. He drinks a liter of vodka a day and contemplates his life, his death. What is at the end of such a journey? Is there loneliness? What is the relationship between freedom and selfishness? Does fulfilling a dream always have a bitter end?

Treatment :
I am a sailor. I have sailed the Atlantic Ocean. When I arrived at the island of Martinique after 35 days on sea, I knew right there and then. I am ready to sail again. I want to spend all my life at sea. Sailors talk about the sea as if it was a human, a woman actually, a very wise one. She is trying to teach us, to communicate with us..
In time I met people who are both talking and living with her, they call themselves "Sea gypsies". Their boats don't have a flag of their home country, because the sea is their nationality, their religion, their home. They have been sailing for decades and when they talk one can hear the rhythm of the waves in their voice. Humility is their common feature.
Then I met Johnson. I met him in the door of a small supermarket in Harvey Vale Bay on Carriacou Island. We looked at each other and we knew, we are of the same kind. Paul Earling Johnson is now 80 years old. He says he used to be famous. He was born on a Colin Archer boat designed by a Norwegian who was known for building safe and durable ships. He was born on the Humble river near Porthsmouth, UK on a boat called Escape. His parents sailed on various expeditions to the North Pole, one of which was attended by Aldous Huxley. Johnson's twin sister died during the bombing of their home port in World War II. Johnson say's from this moment on he always felt alone. After his short career in the Navy in the Shetland Islands, he bought an 18 foot dinghy built in 1895 and sailed the Atlantic Ocean alone. At that time, 1956, it was the smallest and oldest vessel to cross the ocean. He made it just to the Caribbean for Christmas, on the invitation of Bernard Moitessier.
Then he started building boats. Colin Archer was a world famous designer, but Johnson knew all too well the flaws of Archer's boats and thought he could do better. He wanted to create a perfect boat for riding storms, to ride the howling gale. Johnson did become a famous boat builder. He sailed the world with various women and has three kids that he knows of. When he ran out of money, he settled on land for a few years, generally somewhere between St. Barths and the Bermuda Islands. There he built a dozen boats and left galloping around the world again. He sunk three ships. He loved and drank and lived foolish all his life, never truly living on land. Once he tried, he bought land on the island of Flores in the Azures Islands, he gave up after two months, this life wasn't for him he says.
And now he is alone, turning eighty. He never thought he would live this long. His boat is a mess, he is a mess, both are unfit to sail. He drinks a liter of vodka a day, rum is too expensive these days, sitting on his boat and relying heavily on friends. Here he contemplates his life, his death…
Was it worth it?
Is this the price for freedom?
Was I selfish?
Where are the boundaries between selfishness and freedom?
Does fulfilling a dream have always a bitter end?
Is it loneliness?
These questions are as much mine as they are his. I am on the beginning of my journey, he is at the end of his.

Director´s statement :
This film is the reason I started a film school on the first place. It is a film I need to do. The first idea started about 10 years ago when I crossed Atlantic ocean and found a community of sea gypsies on the other shore – Caribbean islands. This people thrown away their passports, didn't carry a flag of their home country, the sea was their nationality, religion and companion. This film started as a portrait of this community. Few years later I met Johnson in the door of a small supermarket on a small island and I realized this is my film. All my inner questions and insecurities about their way of life, the way I wanted to follow was right in front of me. A man in his eighties with the eyes of a child who lived this dream to the fullest all his life, never listened to anybody but the sea. Stubborn man, iconic symbol of freedom. He use to be witty and strong all his life, never looked back, but now. He is alone, his boat is in the same state as his body – old, weak and about to sink. All my fears impersonated. This film is not about sailing, its about the relationship between selfishness and freedom and what is at the end of this journey. If its worth it to follow your dreams, even when it means to be selfish, even when you hurt others, even when it leads to loneliness. He said he never had a choice. I think all of us make this choices daily, some more important then the others. This film is a contemplation about his choices after a lifetime of freedom before he embarks on his final journey with no return.
We are shooting this film trough observation of our main character on his boat in the limbo between dreams and reality of a alcoholic. We use wide lenses and we are very close to the subject, so that viewer can feel him breath. In the contact with outside world we use wide shots with perfect image composition and initiated situations. The island have it's own parallel to Johnson's stories, they become triggers for his memories to rise up. The island is visually very compelling, but we are not concentrating on the first plan of tropical paradise. We are using it more specifically to trigger the connection of those events where he came to the crossroads of his life e.g. first school day on the island – this was the time when his children left him, their mothers followed the need to settle down so the children could start a school. This was the time when they stopped being foolish. Very painful time for Johnson. We see it in his eyes when he watches little kids in the uniforms galloping to school. The other visual motive of memories is the archive footage, which we want to use in a associative editing.

Key creators : 
Director : Lucia Kašová (SK)
Producer : Nazarij Kľujev (SK)
Production manager : Anna Rumanová (SK)
DOP : Martin Jurči (SK)
Camera operator : Maxim Kľujev (SK)
Editor : Roman Kelemen (SK)
Dramaturgy : Jan Gogola (CZ)
Music : Martin Turčan (SK)
Sound : Tomáš Bauer (SK) Igor Jedinák (SK)
Sound Postproduction : Igor Jedinák (SK)
Color grading : Matej Šalko (SK)
Animation & VFX : Viktor Boža

Making of episodes :